Mark your calendar for our preschool screening, September 24th.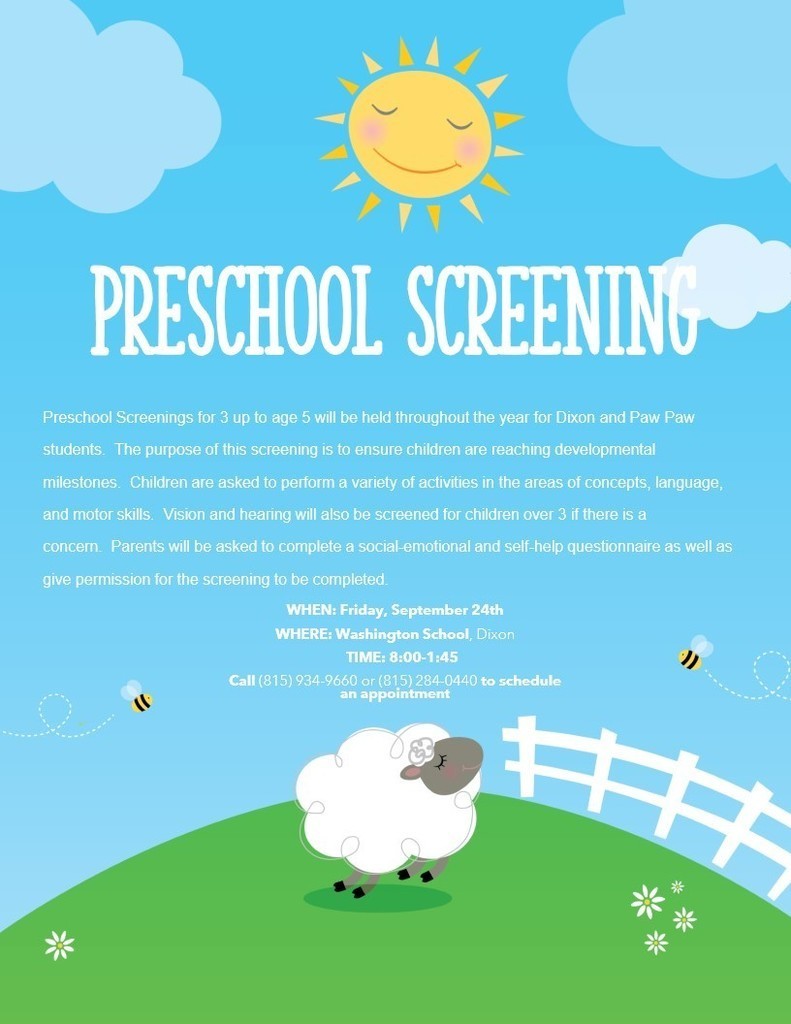 Today we celebrated our beloved, kind hearted, hard-working custodian, Dale Hoover! After 31 years in our district, he swept the floor one last time before heading into retirement! He will definitely be missed in the hallways at Washington but we wish him a WONDERFUL retirement!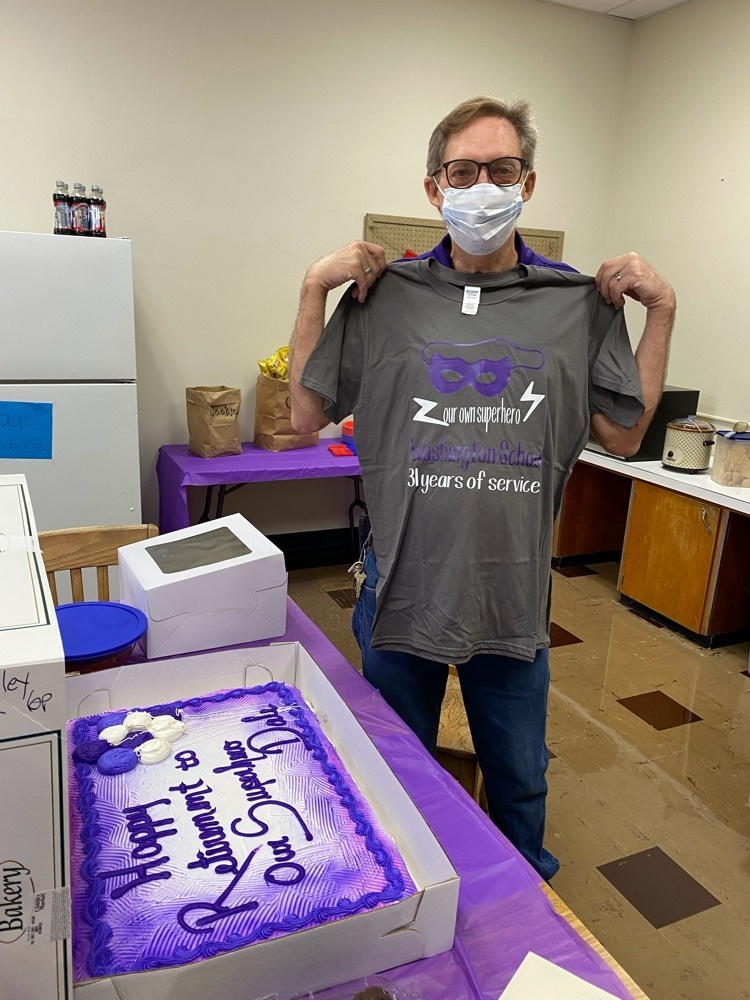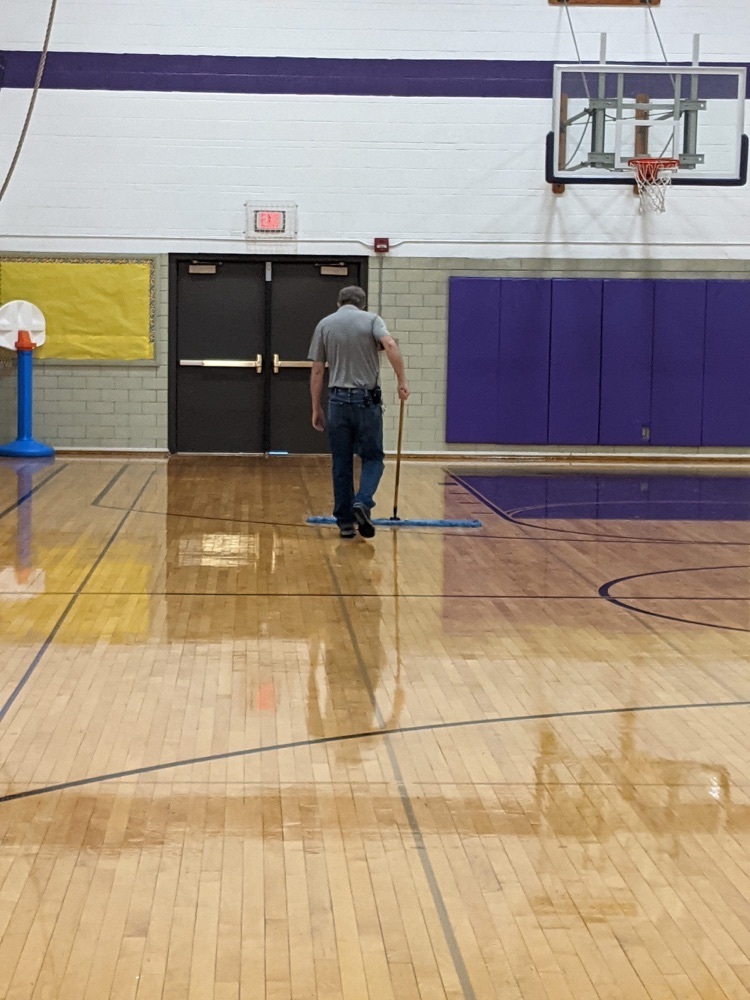 Due to construction on Galena Ave., Palmyra Ave. and around Reagan/Madison School, bus routes have been extremely long. Delays as long as 15-20 minutes getting over the Galena Ave. bridge have been recorded and there are three identified routes that must go over the bridge twice each evening. In order for the shuttle system to operate correctly, all of the buses must wait for all of the other buses to arrive at the shuttle location before leaving thus each delay potentially delays multiple routes. We realize this is an inconvenience to the families and challenging for the students especially when the temperatures remain warm. While we are working diligently with the bus company on multiple issues, unfortunately, until these construction projects are completed, we do not anticipate consistent improvements in the route times. We appreciate your patience.

As you may know, Illinois Governor, J. B. Pritzker held a COVID-19 press conference today where he issued new rules regarding indoor masking, educational employee vaccination and testing requirements. The indoor masking order, statewide, begins Monday, August 30, and the requirement for educational employees to begin their COVID-19 vaccine regimen is September 5. All educational employees must get a COVID-19 vaccination or submit to testing weekly (or more frequently if ordered by the local health department). We will communicate internally with our staff on the specifics of how we will verify staff vaccination status, and coordinate weekly testing as appropriate. Our consistent and continuous aim is safety, learning, and communication. We're proud to be open, full day and full time and fully in person. Thank you for your support and understanding, and thank you for allowing us to lead and serve the educational needs for each child, every day!

Sharing information from our friends at The Dixon Historic Theatre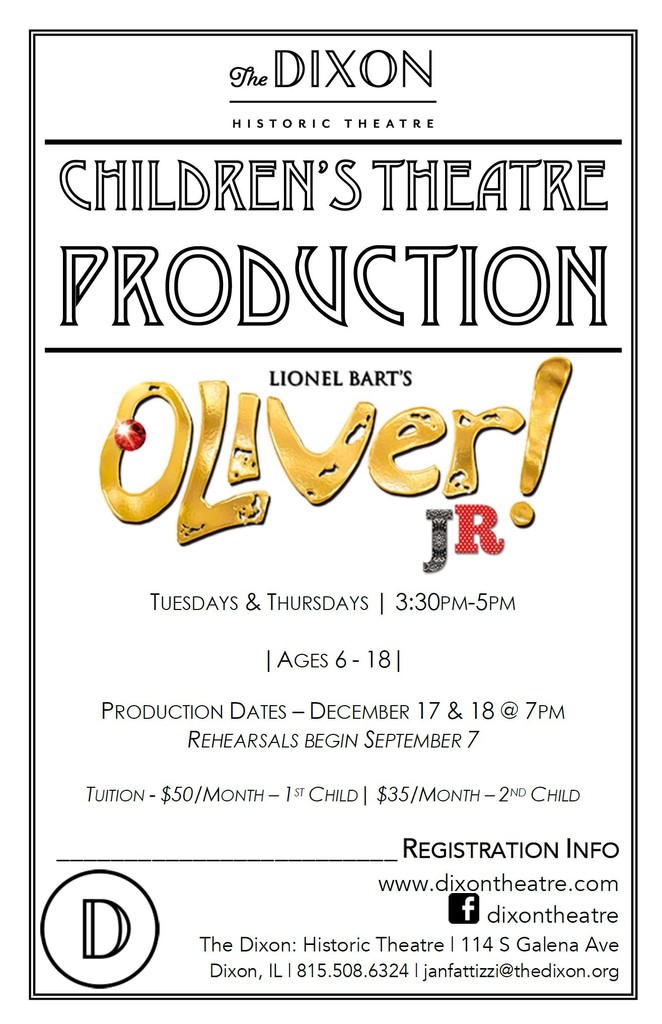 Preschool for All DPS 170 has been nominated for the best preschool program in the Sauk Valley area. Vote under the Education/Pre-School every day until 9/1.
http://www.bestofsaukvalley.com/vote


Washington Dismissal Locations by Teacher: Kindergarten: Door #2 (Gym door)= Mrs. Dillon, Mrs. Alston, and Mrs. Ramirez. Door #8 = Mrs. Peterson, Mrs. Ferguson, Mrs. Gaulke, Mrs. Miller, and Mrs. Venier 1st Grade: Door #1 (front door): Mrs. Doane, Mrs. Dallas, Mrs. Ellingsen, Mrs. Hauck, Mrs. Karper, Mrs. Penaflor, Mrs. Scott, and Mrs. Siegman

We are so excited to welcome all our new and returning students to school tomorrow as we officially kick off the 21-22 school year! Tomorrow is a half day which means dismissal is at 11a. Please remember to mark your child's Bee folder to show how he/she will be getting home. 🟣⚫️

We are so excited to see everyone for the first day of school tomorrow! Schools dismiss at 11 am tomorrow. Please allow enough time to get to school with all the road work. Click below for the Return Plan approved by the Board of Education. #GoPurple
https://5il.co/x6n0


Our DPS #170 mobile App has been updated. Check out this short video to see how to navigate through the App. #gopurple
https://youtu.be/WD1waFFk0jo

We are hiring! Here are the classroom positions we currently need to fill. #gopurple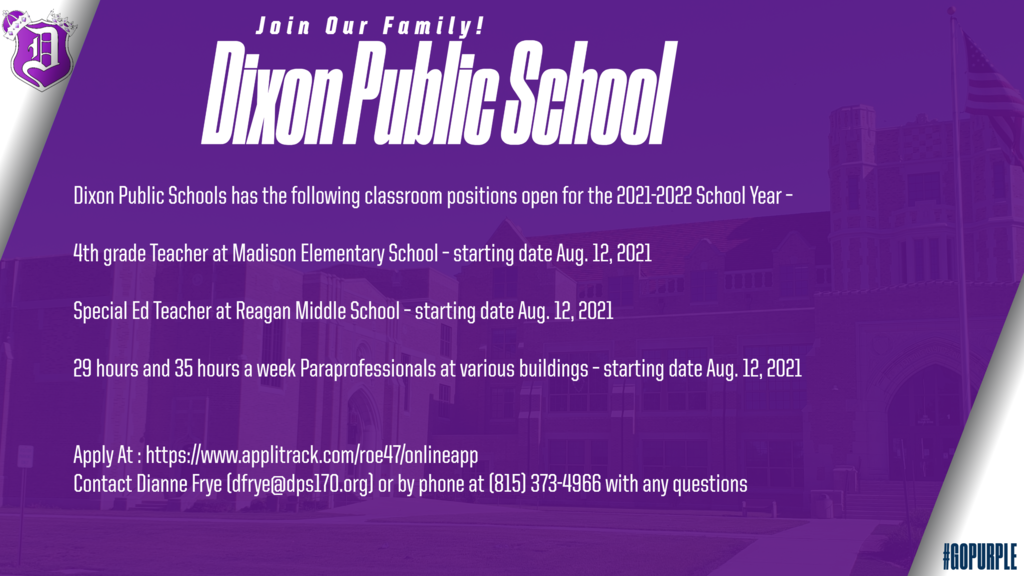 We are hiring! Here are the support positions we currently need to fill. #gopurple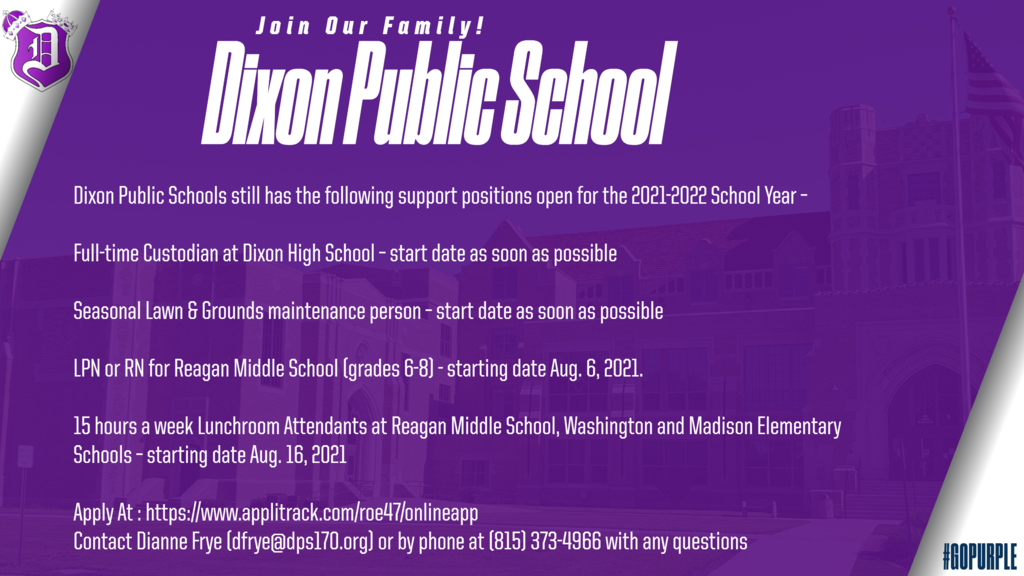 Sharing information from our friends at the Dixon Theatre